Record Breaking Race Series Ends
Semple & McKillop were delighted to end the year on a high note by bringing the highly successful sponsored Race Series to a close.
Seamus McKillop presented individual prizes to the top 3 runners of 15 prizes awarded in an age-graded challenge. This allowed runners to gather points according to their performance, based on their age, and the number of events they participated in.
1st place: Norman Mawhinney – Scrabo Striders Running Club
2nd place: Mary Slocum – Ward Park Runners
3rd place: Brian Todd – Orangegrove Athletics Club
Our congratulations to all our participated in the Semple & McKillop Race Series and our thanks to Championship Ireland who hosted the series.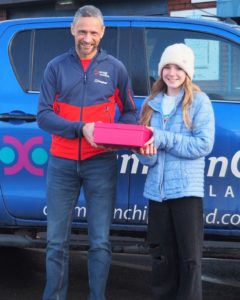 We were also delighted to make a special presentation to Emer McKee who set 2 World Records when competing in the Semple & McKillop Race Series!
Emer, a member of Willowfield Harriers in Belfast, recorded a world record for 5km in April. She went on to break her own world record by 13 seconds in June. We wish Emer, who is a modest and talented young girl, every continued success.